Well, this is it! Here we go. Our journey into the blogosphere (wow blogosphere is recognized as a word in spell check, in fact it auto-corrected my initial attempt at spelling…bloggosphere. Excuse me!) I'm told this is what we should do. This is what we must do. Our business will go away without it. So here I am. This is my story.
My name is Joe (pictured to right with my wife Faith), I am the President at Southern Paint and Supply Company in Daytona Beach, Florida. We have three locations and have been selling paint here since 1954, June 21 to be exact. I started in this business at just 18 years old. I'm almost 38 now, married, two kids. Over the years, this has become a tough business! Many years ago, an old employee of mine who had embattled his way through the industry told me, "What's the first four letters of paint…PAIN." Funny, I still laugh at that. So how'd I get here you ask? I had just come home from a year at college, a bitter year actually. I was on close to a full ride wrestling scholarship in Anderson, South Carolina. Wrestling was my passion. I lived and breathed it. It was my everything! While in South Carolina I suffered a few injuries, didn't really get along with my coach and decided to move back home. Shortly after returning, my then girlfriend, now wife, told me her dad was looking for a warehouse guy and wanted to see if I was interested. At the time I was working with some buddies at Sam's changing tires. We we're actually having some fun so I did have to think about it a little but after some thought I said, "Hey, why not?" After all, it pays $6.50 an hour…I was stoked! I started emptying trash cans, cleaning toilets, unloading delivery trucks, sweeping floors, stocking shelves, CLEANING UP PAINT SPILLS FOR THE TOO GOOD, HIGHER ECHELON, UNGRATEFUL, BASTARDS IN THE PAINT DEPARTMENT (Sons of bitches!) Anyway, to make a long story short, I slowly worked my way through the ranks and have pretty much been in every position in the company, paint department, parts department, art department, outside sales, paint manager and I'd like to think I excelled in each. Looking back I wouldn't have had it any other way. I now know what to expect out of all my employees having been there, done that. I'm now the President of the company and my wife Faith, the office manager (the real big boss) is essentially running the show. And it's a show lemme tall ya!

So Southern Paint was founded in 1954 by the late Fred Ohrele (pictured to left), Faith's grandfather. Never met him, but understand he was a quiet, old fashioned kind of guy. Fred ran a tight ship, he was very stern. Paid close attention to detail. He liked things clean. Right now we have a pretty clean, tidy store, especially for a paint store and I'm told if Fred saw it he'd freak. Every day at closing, Fred would have the shelves covered with plastic so no dust will settle on them in the night. Every day! Since I've been here, literally, hundreds of people have told me, still tell me, how great of a man Fred was. How much he contributed to the community. How great of a businessman he was. How great of an employer he was. He was generous. He once caught an employee stealing from him. Instead of letting him go he gave him a raise. He thought he needed more money. True story! It was just a few years ago around the height of the recession I caught an employee stealing, fired the son of a bitch, and pressed charges. It took a while, but I did collect restitution…that rat bastard! How dare he steal from me in such tough times, when every dollar counts and company priorities are to keep my employees working and paid. The nerve!
Fred founded Southern Paint on the simple, old-fashioned principal or great customer service. When Fred passed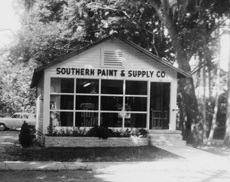 Faith's parents carried on that legacy and as third generation, we're trying to do the same. It's hard, it's challenging, and sometimes outright suicidal. Times have changed man! The good old boys are slowly going away and the big boxes are not retreating. It's war out there. We're all fighting for our piece of that pie. Nevertheless, we're holding our own by doing what we do best, taking care of our customers, our friends.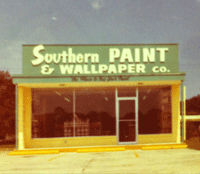 As a result, we find ourselves right here, right now…blogging, facebooking, flickering, twittering, snapchatting, texting, in essence, fighting to survive in this ever-changing world around us. Our purpose here at The Southern Paint Blog is to tell the paint story through our eyes. We'll tell our story whether it's good or bad, about new products or experiences, or just our venting. We'll share it and can only hope that you like it. Since we have a huge offering here at Southern Paint, wallpaper, art supplies, custom picture framing, industrial coatings, our story will come from all angles, covering a wide variety of topics. I hope you enjoy!